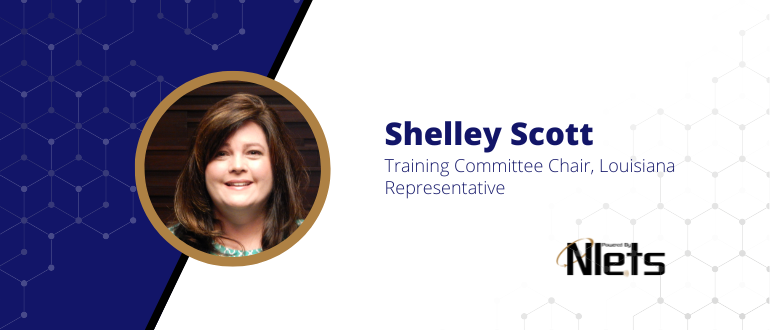 Training Committee Spotlight - Shelley Scott
September 13, 2022
Welcome to the 15th edition of the Nlets Representative Spotlight, where we highlight the incredible work that Nlets Representatives are doing.
Today, meet Shelley Scott, Admin Program Director for the Louisiana State Police. Ms. Scott is the Nlets Representative for Louisiana and serves as the Nlets Training Committee Chair. Shelley has been involved with Nlets since 2006. As part of her day-to-day work, she oversees the Louisiana State Police NCIC LETS Access Unit which is responsible for oversight of their state system, certification of users, and audit of agencies. Her department is also responsible for maintaining the sex offender and child predator registry, the expungement unit, and their computerized criminal history unit.
Q. How Would You Describe Your Role as an Nlets Representative to Someone Who Did Not Know What It Involves? What Are Some Highlights? What is More Difficult?
A. My role as the Nlets Representative for Louisiana is to make sure that all Louisiana law enforcement agencies that have access to Nlets are familiar with all the transactions that are available to them. I also promote Nlets and educate those who are unaware on all the cool and fun stuff that you guys are constantly working on. I also notify Nlets' wonderful Service Center whenever there are any issues, but in general, I am the voice of Louisiana to Nlets.
As far as highlights go, I love attending the ABM every year – not only because they're in wonderful places, but also because I get to network with people in the same position as myself. Another highlight is participating in the training committee as the chair.
The main challenge of the role is that being an Nlets Representative is just one part of my work, so I sometimes wonder if I'm shortchanging this role with trying to fit so much in.
Q. What Was One Case Study Where Nlets Was Used in Your Agency/State?
I can't recall the specific year, but a while ago, there was an incident here in Louisiana on a Sunday morning where a subject went to a local convenience store, not far from state police headquarters here in Baton Rouge, and just began shooting at officers. The shooting took place during a shift change, and it was an incredibly traumatic morning for law enforcement. There were quite a few sheriff deputies and police officers who lost their lives that morning. I was called to come into the office to help track down and apprehend the subject. They knew he was from out of state and driving an out of state rental vehicle.
Using Nlets, we were able to identify who he was. I started by reaching out to you guys to help us to see if there were any other law enforcement agencies that had possibly run inquiries of the suspect's license plate or about the subject in general to be able to give us some historical information about where he was prior to the incident. Through the RAND transactions, we learned that he was from Missouri.
The Nlets staff that I reached out to that day as well as the transactions that helped us move through that process were invaluable. I don't like to think what would have happened without Nlets' support.
Q. What is One Word You Would Use to Describe Nlets and Why?
A. Progressive - I think would be a good word to explain all that that Nlets does. I mean, you guys are on the cutting edge of technology and always making new information available to law enforcement - both nationwide and internationally. The amount of the knowledge base that's there just blows me away.