Datamaxx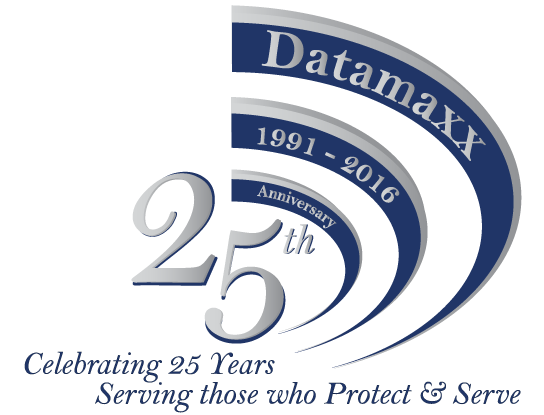 Datamaxx At a Glance
How can we improve the process of accessing and sharing "mission critical" information for those who protect and serve our nation?  That was the question asked by co-founders Kay Stephenson and Jonathan Waters when they came together with their extensive industry and technical expertise.  The answer came in 1991 when they formed Datamaxx Applied Technologies, Inc., as a certified woman-owned business to develop advanced communications for the law enforcement, public safety, and criminal justice markets.  Datamaxx quickly became an industry leader. In 2014 Datamaxx enhanced our product line to encompass solutions for "designated" critical infrastructures, eighty-five percent of which are owned by the private sector.  Our vision is for law enforcement and critical infrastructure private sector entities to partner together to build a vital information sharing environment to make our nation safer.        
Datamaxx is excited to be celebrating our 25th Anniversary this September.  Of course, this could not have been accomplished without the amazing support of our customers.  Datamaxx remains committed to the law enforcement and criminal justice market, and as we embark on our next 25 years, to continue to innovate and evolve to the changing needs of our customers.  
What is new at Datamaxx?
Committing to keeping our technology aligned with open industry standards, Datamaxx solutions utilize the latest technological advances to meet the changing demands of our customers, ensuring that Datamaxx customers can grow and evolve with the ever-changing technology landscape.
Datamaxx now offers a complete turn-key solution for State CTA's as well as other vendors that service them.
Datamaxx now offers a Computerized Criminal History (CCH) component seamlessly integrated with our world-class message switch, Omnixx Message Broker.
Datamaxx now offers CJIS vendors intelligent parsing, xml exchanges and RESTful API's that allow CJIS-based communications and transactions to be easily integrated into CJIS vendor solutions.
The Datamaxx Secure Cloud, launched in 2003, delivers cost-effective solutions, including message switches, client interfaces, intelligent ticketing, and many more. The number of agencies we support and the volume of cloud users continue to grow exponentially.    
JAVA-Free! – Datamaxx offers the industry's first and only fully functioning, web-based, JAVA free, CJIS Data Access client.  No installation, fully functional, secure, and JAVA free!
Integrated, Web-based Training & Certifications solution.  The new release of our Omnixx Trainer solution is now also JAVA Free and web-based!
Enhanced mobility solutions for mission critical information anytime, anywhere on any device.
Information sharing solutions for critical infrastructure and key resources.
What should states expect when they partner with Datamaxx?
Our tenure in the public safety market shows that customers can expect leading expertise based on knowledge gained over 25 years, true innovation in our solutions that are proven in the market we serve, and a commitment to excellence and customer satisfaction.  In fact, two law enforcement communication interface standards are Datamaxx inventions:  DMPP-2020 (Datamaxx Message Processing Protocol) and DSEO (Datamaxx Standard Embedded Object), which are used by 90% of agencies and vendors today.  And, Datamaxx holds several technology patents for its pioneering development of new solutions.  
What can your partners look forward to in 2016 and beyond?
In today's world, security is of paramount concern.  Utilizing our proven technologies, Datamaxx aims to bridge the gap between the public and private sector by developing new ways to harness the power of timely and effective information sharing to protect our nation's critical infrastructure and key resources. CEO Kay Stephenson was recently elected to chair the board of the IJIS Institute, which facilitates collaboration between private companies and government agencies. Datamaxx believes such partnerships are key to ensuring the continued safety of our homeland and its citizens.
Partner Corner
Each quarter we highlight a partner that has aligned with Nlets to promote innovation and excellence within the criminal justice and public safety community.